If any of you know either one of us, you'll know that we are Anglophiles.  We love the UK.  When you see the inside of our house, it's like something out of a castle, with swords, wrought iron candelabras and chandeliers, tapestries, and gargoyles.  So when we decided to to a big trip to celebrate our anniversiary, we of course chose England.  Thanks to some friends, including Rachel Warwick and Christian Yuill, and friends in Liverpool Neil
Dutton, we were able to book 4 Lost Hollow shows.

So here's the quickie rundown on the trip. 
Day 1.   We flew in, got the car, next morning drove to Slough to visit our good friends John and Dot Graveling, then booked it up to Warwick, where they not only have a beautiful castle, but a wonderful medieval village, complete with many half timbered houses. 
One cool thing that happened was we were walking down the street, in England the main street is called 'high street', so we saw a drum store of all things.  It was close to closing time, I was able to go in and meet the guy who runs the store.  His name was Tom and I was able to introduce myself, and pick up a current issue of Rhythm UK magazine, on his coffee table, rummage through and point to a pic and say here I am.   Pretty cool.   Rhythm UK did a 2 month feature on Nashville studio drummers :)  Our Bed and Breakfast was a gorgeous old house from the 1600's called Park cottage.  We were there first, so we got to choose the room, we got the four poster bedroom with very wonky floors.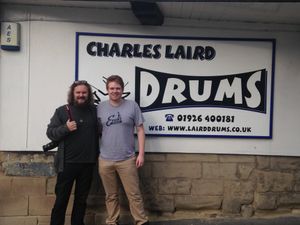 Day 2 took us up to York, in Cumbria.  We were trying to get to Scotland and we didn't want to drive 8 hours, so we thought we'd do 2 hour drives and visit places along the way, then hit Scotland.  Let me tell you, if I had pick one place to live in the world, it might possible be York.  Holy Mackeral that is a beautiful town.  It's a medieval walled town that has a street called Little Shambles, and it's like walking into Diagon Alley (More about that later).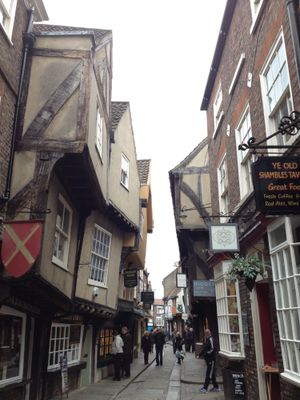 We took a tour of the York MInster, a cathedral in York that took over 250 years to build and is larger than Westminster Abbey.  We also found the snarkiest book store I think i've ever been in.  Another highlight was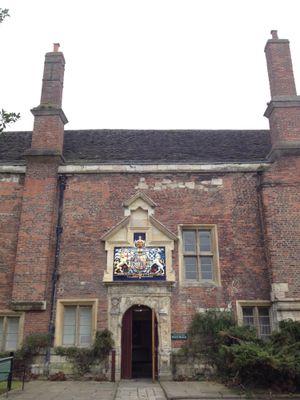 the University of York, pictured below is the King's College, home of their Medieval Studies dept, and possible future school of mine :)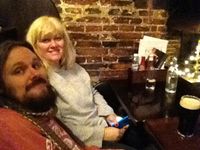 We had dinner at the Ole White Swan pub, of course I had to do my fish and chips and Guinness, Lor had shephards pie.  yum.     We are definitely going back to York, and I really want to play there. 
Day 3.   Next stop was Edinburgh, a 3-4 hour drive, so we left early and took the highway up the coast.  We had a little Chevy Spark, the spark stands for the engine, I think it had 1 cylinder,  and was a 5 speed.  As we were driving towards Scotland we saw a sign that said Alnwick Castle.  Well, as I'm sure you know, this castle is where they shot the broomstick lesson scene with Madam Hooch in Harry Potter and the Sorcerer's Stone.  So we went. OMG!!  The village was to die for, but since we had to get to Scotland, we only took in the castle.  It was very chilly that day, overcast and damp.  We got to the castle and it was a gorgeous medieval castle on the outside, in the inner yard, an actress was giving broomstick lessons.  She was hilarious!!  We asked her to take a selfie with us and she told us no one had ever asked her before.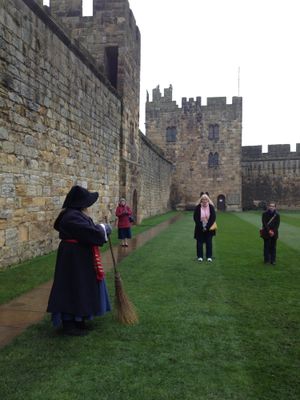 The inside of the castle was like Windsor, it was that opulent and elegant.  We weren't expecting that.  I really want to shoot a music video here next trip.  
Believe it or not, we're still on Day 3, it was about 1:00 and we drove into Edinburgh and went straight to the castle.  Edinburgh castle is on a giant rock at the highest point in the town.  It's a military fortress, more than a luxury castle, so it's very bare bones accomodation wise, but a full blown military garrison.  It's also the castle that J.K. Rowling would stare at from the Elephant House coffee shop while she was writing her first Harry Potter book.  Sense a theme here?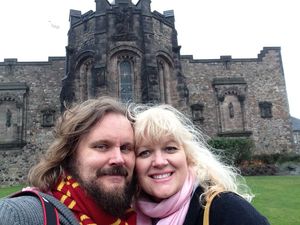 Ok, that's enough for this blog, we'll pick up on another blog :)